A Lot More Accuracy in Performance Analysis
GTsim (Gas Turbine simulation) is a powerful and flexible software package that can be used for the industrial and test applications. It simplifies the tasks that performance engineers encounter frequently with a user-friendly interface that presents information as graphs. It provides an environment for component based modeling for engine performance analysis that will soon include features for designing, developing and optimization. The applicable and flexible architecture allows experts to perform steady-state and transient simulation (design & off design/single & multipoint) in various regimes for single and multi-shaft engines like Siemens V94.2, GE F9 and national engine IGT25 and their upgraded versions.
A glimpse into its design
Accurate models, used to analyze the engine, are the distinguishing characteristics of this software. Input of the model configuration is a cycle design or any known reference point (or preferably several points) of a selected engine with its conditions. Information, needed for the cycle configuration such as turbine (stage by stage) and compressor (component) maps, is either already available in our company (through complex calculations) or is provided by the manufacturer.
Besides being a tool to predict performance, GTsim is suitable for parameter sensitivity analysis especially ambient condition and different fuel combination analysis, etc. The inputs are based on the model configuration and if carefully selected, outputs are obtained with very high accuracy. Output data is delicately displayed and can be reported by either graphs or excel tools. Available data includes the gas condition (temperatures, pressures, mass flow, speeds, etc.) and the gas composition. The simulation results can be saved and exported to be used for custom analyses.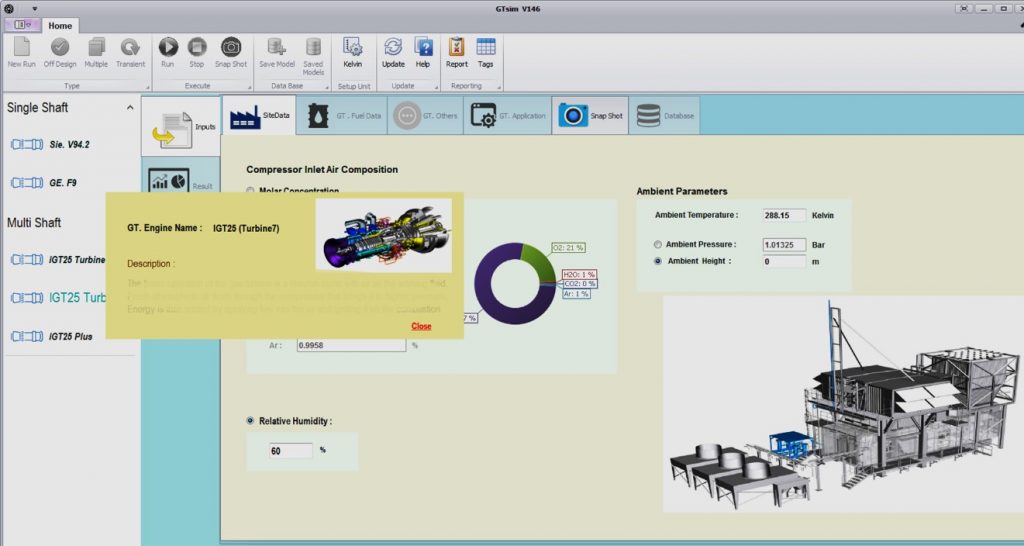 GTsim's most interesting features have been listed below
Flexibility
Specifying the data for the overall engine performance design aim and the component design
Simulating the most popular engines in the industry (single and multi-shaft)
Steady-state (single and multipoint) and transient off-design simulation
Evaluation of engine behavior in a wide variety of ambient and working conditions
Ability of variable geometry study, and its effect on performance
Could be used in turbo-compressor and turbo-generator applications
Monitoring "running lines" on the characteristics map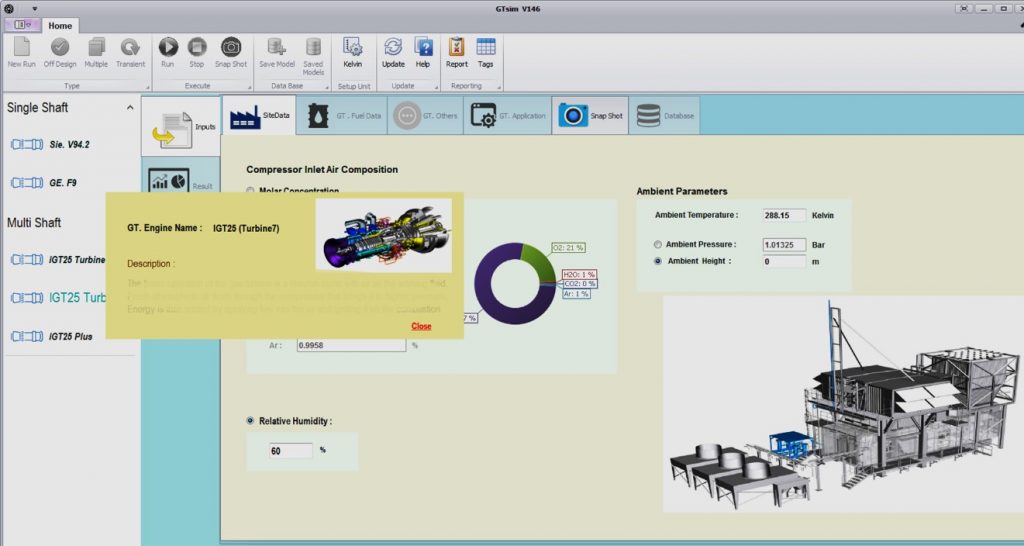 Power
A complicated and precise model with relatively good running speed
Validating engine model with test data
Simulation of engines in off-design and transient model for different applications
Prediction, design & sensitive analysis for applicable and popular engines
Simultaneous analysis of effects of multiple parameters on performance
Simulation of several models of engines that are used in industry in details (Siemens V94.2, GE F9, IRAN IGT25 and upgraded versions )
Predicting and monitoring of Secondary Air System (SAS)
Off-design simulation in multipoint model with effective parameters
Ability to Simulate GT performance in variant regimes such as startup, speed/load following, shut down, Emergency shut down in transient application (online & offline)
Sequence monitoring
Ability of stage by stage evaluation of  turbine performance
Powerful data base for saving and loading
Getting outputs reports
Displaying temperature and pressure contours for SAS and other systems
Snapshot features which allow to freeze running model and to continue based on the previous or a new condition (off/online).
User-friendliness
Simple graphical user interface
A thorough and comprehensive software help
Component based
The most applicable engine architectures
0-dimensional modelling
Extension
Temperature and pressure contouring for SAS and other systems
Snapshot features which allows to freeze running model and continue it in any time and also allows to change the model conditions at the continuing (off/online)